Inferior Vena Cava (IVC) Filters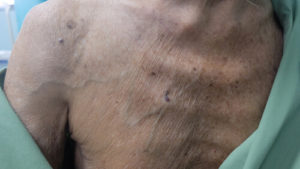 Harford, P.C., Accepting IVC Filter Cases
Harford, P.C., is currently accepting claims relating to serious injuries from the use of an IVC Filter. This spider-like metal device is used to prevent blood clots from travelling to the heart and lungs by filtering the clots from the blood. The IVC Filter is surgically implanted in the inferior vena cava, which is a large blood vessel that runs from the abdomen into the heart and returns blood from the lower half of the body. It is implanted by vascular surgeons in patients that are unable to use anti-coagulant or blood-thinning drugs.
IVC Filter injuries can be life threatening and include perforations of the vena cava, movement of the metal device to the heart, and pulmonary embolization. A study undertaken by Dr. William Nicholson and researchers from York Hospital in Pennsylvania revealed an alarming 16% of these implanted filters fracture. Approximately 71% of these fractures involved fragmented pieces that migrated through the veins of the patient to the heart presenting the risk of sudden death.
The Food and Drug Administration ("FDA") has received hundreds of adverse reports regarding IVC Filters with injuries from punctured organs, blood vessels, and filter migration. In 2010, the FDA released a warning that the filters should be removed as soon as the patient's risk for blood clots subsides.
The IVC Filters are manufactured by C.R. Bard and Cook Group, Inc. The brand names include: the Bard Recovery Filter, the Bard G2 Filter, the Bard G2 Express Filter, Cook Celect IVC Filter, Cook Tulip IVC Filter, and Cook Platinum IVC Filter.
If you or someone you know has been injured by an IVC Filter, please contact us immediately at (212) 390-8983 for a free case consultation. You may also complete the form on the side menu and we will contact you to set up a consultation.