Power Morcellators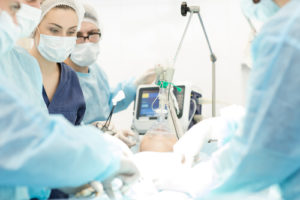 Harford, P.C., Investigating Power Morcellator Cancer Cases
What are Power Morcellators?
They are medical devices used to remove noncancerous growths, typically fibroids, from the uterus. Surgeons use these devices when performing hysterectomies and certain kidney and spleen surgeries. It is usually inserted in small incisions to remove tissue after cutting and shredding it. Women whose surgeons used power morcellators present an increased probability of developing uterine cancer, including a rare and aggressive type called leiomyosarcoma.
The first power morcellator was approved by the FDA in 1995, but the devices have grown in popularity for uterine fibroid removal or hysterectomy procedures for suspected uterine fibroids. Power morcellation has been used as a replacement for traditional surgery because the smaller incision presents less of a risk of blood loss and infection.
What are the risk factors?
The FDA has issued a series of warnings stating that these devices are not safe for women undergoing fibroid removal procedures. Reports suggest that 1 out of every 350 women that undergo these surgeries with a power morcellator may have an unsuspected sarcoma.
During the surgery, the cancerous tissue may spread throughout the pelvis and abdomen and cause an aggressive type of cancer. There is no way to determine prior to surgery whether the fibroids are cancerous.
What are the names of the devices?
Ethicon Gynecare Morcellex Tissue Morcellator
Morcellex Sigma Tissue Morcellator System
Gynecare X-Tract Tissue Morcellator
Harford, P.C., is currently investigating uterine cancer claims arising from the use of power morcellators. If you or someone you know has been injured by a power morcellator, please contact us immediately at (212) 390-8983 for a free case consultation. You may also complete the form on the side menu and we will contact you to set up a consultation.