Zimmer Persona Knee Replacement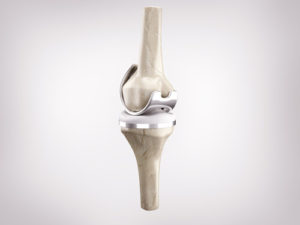 FDA Issues Notice of Class II Recall of Zimmer Persona Knee Implant
Harford, P.C., is currently accepting claims from all 50 states relating to injuries from the Zimmer Persona Knee Implant. On March 12, 2015, the FDA issued a notice for a Class II Recall for all lots and sizes of the Zimmer Persona Trabecular Metal Tibial Plate knee implant. Class II recalls are issued when it is discovered that a medical device presents a potential temporary or reversible medical and health threat.
The Zimmer knee replacement device is a semi-constrained knee prosthesis that utilizes modular components between the tibial plates and articular surfaces. It is used to resurface the articulating surface of the femoral, tibial, and patellar bones. It was designed to closely mimic the natural action of the knee and intended for an active, younger demographic of patients.
The recall was issued after a high number of patients reported experiencing loosening of the knee and an increase in radiolucent lines on x-rays indicating a gap between the metal plate and the bone. "Radiolucent" means they showed up as dark areas on x-rays, indicating less bone density in the knee.
The knee complications stem from poor seating or fixation, causing knee pain, loosening of the device, lack of artificial knee fixation, device failure, anf the need for revision surgery.
Harford, P.C., is accepting cases from injuries Zimmer knee replacement devices in all 50 states. If you or someone you know has been injured by a Zimmer knee replacement device, please contact us immediately at (212) 390-8983 for a free case consultation. You may also complete the form on the side menu and we will contact you to set up a consultation.