Baby Powder / Ovarian Cancer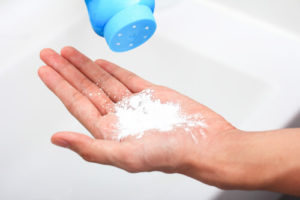 Harford, P.C., is currently reviewing claims on behalf of women suffering from ovarian cancer after using Johnson & Johnson ("J&J") talcum or baby powder near the genitals. Despite being a trusted product for decades, there have been more than 1,200 lawsuits that have now been filed across the country alleging this baby powder causes ovarian cancer.
In May 2016, a jury in St. Louis, Missouri awarded $55 million to a woman who was diagnosed with ovarian cancer after using J&J baby powder for nearly 40 years. Just three months earlier, another jury in St. Louis awarded $72 million to the family of a woman who died from ovarian cancer after using the product for decades.
Baby powder is used in the genital area to keep skin dry and reduce friction. Studies have shown, however, that the particles can enter the vagina and travel to the ovaries, uterus, and fallopian tubes. Talc, the mineral used within baby powder, is considered a "possible human carcinogen" by the World Health Organization.
Ovarian cancer is a lethal gynecological cancer and is most often detected in the later stages of the illness when it is too late to fight the cancer. About 20,000 women annually are diagnosed with ovarian cancer in the United States, and more 14,000 die. Ovarian cancer strikes about one woman in 70.
As early as 1971, researchers found that talc was embedded in some 75% of all ovarian tumors studied. The Cancer Prevention Research medical journal released a study in June 2013 that found woman who use talcum powder may face a 20% to 30% greater risk of ovarian cancer.
Harford, P.C., is currently accepting J&J baby powder cases. If you or someone you know suffers from ovarian cancer after using talcum or baby powder, please contact us immediately for a free consultation.
You can reach us at (212) 390-8983. We are here to help you.