Hydroquinone / Leukemia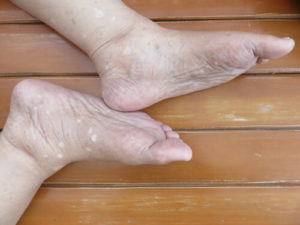 Hydroquinone-Containing Skin Lightening Creams Linked to Leukemia
What is hydroquinone?
Hydroquinone ("HQ") is a skin bleaching ingredient used to lighten areas of darkened skin. It functions by eliminating brown spots and hyperpigmentation from melasma whereby it prevents skin from making the substance responsible for skin color. Over-the-counter HQ products can contain 0.5% to 2% concentrations of hydroquinone; 4% (and sometimes higher) concentrations are available only from physicians.
Upon initial approval of HQ bleaching cream in 1982, the FDA listed that ingredient as "generally recognized as safe and effective." However, in 2006 the FDA revoked this classification due to a possible hydroquinone cancer risk. A link to cancer was found in animal studies and later studies suggested an increased risk for leukemia in humans.
Hydroquinone's Potential Association to Leukemia
Benzene is a known human carcinogen. HQ, a 1.4 benzenediol, is a derivative of benzene. In humans, HQ is carried throughout the body in the blood stream and transported to the bone marrow where it is converted to benzoquinone in the bone marrow. The conversion of hydroquinone to benzoquione is integral in the development of acute myelogenous leukemia ("AML"). Experimental studies suggest that benzene and its metabolite HQ are genotoxic agents and induce DNA damage in blood cells and lines.
AML begins in the bone marrow or the inner soft tissue of bones where blood cells are formed. The cancer affects the formation of the white blood cells, which are part of the body's immune system for fighting disease.
Researchers issued a case study in 2011 reported in Toxicology and Industrial Health discussing a 43 year-old male diagnosed with AML following 16 years of occupational exposure to HQ in radiographic solution. Based on their review of the medical literature and occupational and medical history of the patient, the researchers concluded his "blood disorder was, to a reasonable degree of medical probability, caused by his occupational exposure to HQ and benzoquinone.
Hydroquinone has been banned for sale in over-the-counter products in Japan, Australia, South Africa, and the European Union.
How is Hydroquinone sold?
Although certainly not an exhaustive list (there are countless brands of HQ skin creams), here is a sampling brand names containing hydroquinone: Aclaro, Aclaro PD, Alera, Alpphaquin HP, Alustra, Calripel, Eldopaque, Eldopaque forte, Eldoquin, Elodquin Forte, EpiQuin Micro Pump, Ep/Quin Micro, Esoterica, Esoterica Sensitivie Skin, Esoterica with sunscreen, Glyquin, Glyquin-XM, Lustra, Lustra-AF, Lustra Ultra, Melanex, Melanol, Melpaque HP, Melquin HP, Nava-SC, Nuquin HP, Palmer's Skin Success, Remergent HQ Roden and Fields, Solaquin, and Solaquin Forte.
Do I have a claim for Leukemia from a Hydroquinone-Containing Products?
Harford, P.C., is now accepting leukemia cases from clients in all 50 state. We have experience representing and litigating claims for leukemia caused by a hydroquinone-containing skin cream. If you or someone you know developed leukemia after using a hydroquinone products, please contact us immediately at (212) 390-8983 for a free consultation. You may also complete the form on the side menu and we will contact you to set up a consultation.