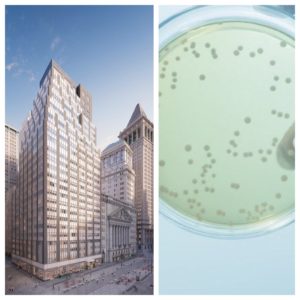 Harford, P.C. has filed a new Legionnaires' disease lawsuit emanating from the residential building located at 20 Broad Street within the financial district in Manhattan. Our client, a 59 year-old financial trader, was exposed to legionella bacteria in September 2019 while staying at the Sonder Airbnb, which operated the second to twelfth floors of the building. The lawsuit was filed August 20, 2020 in the New York County Supreme Court.
On March 11, 2020, the New York City Department of Health and Mental Hygiene released a notice that two guests residing in the building were confirmed with diagnoses of Legionnaires' disease. After testing the building's water system, the Health Department's results revealed Legionella growth in the water system supplying the second through eleventh floors. It warned guests to not take a shower and minimize time in the bathroom.
The results were confirmed by water samples taken within numerous post heat exchangers and risers within the building.
Harford, P.C. is working on the case with Siegel Brill, P.A., a Minneapolis based law firm that concentrates on representing individuals harmed by Legionella bacteria. To date, Harford, P.C. currently represents more than 15 individuals afflicted with Legionnaires' disease throughout the New York city area.
If you or someone you know has been injured by exposure to Legionella bacteria, we are here to help you.
Please call or email us today for a free consultation at Ph: (212) 390-8983 Email: info@harford-law.com