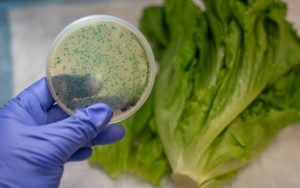 Harford, P.C. has filed a lawsuit in New Jersey federal court on behalf of a woman suffering from E. coli 0157:H7 food poisoning and Hemolytic Uremic Syndrome ("HUS") after ingesting contaminated romaine lettuce at a Panera Bread restaurant in Raritan, New Jersey. The romaine lettuce originated in the Yuma, Arizona region and was sold through a chain of distribution to the Plaintiff in March 2018. The case represents the twenty-ninth (29th) foodborne illness outbreak of shiga-toxin producing E. coli ("STEC") with a confirmed or suspected link to leafy greens between 2009 and 2017.
On April 10, 2018, the Center for Disease Control announced an outbreak of E. coli 0157:H7 in multiple states across the county, linked to the consumption of romaine lettuce grown in the Yuma area. Here, the case alleges that the growers, shippers, and sellers involved with the contaminated romaine lettuce failed to properly test, document, and follow preventive strategies to prevent E. coli poisoning. Among other things, the complaint filed in the case alleges that the romaine lettuce was contaminated with manure stemming from a nearby cattle ranch.
When E. coli 0157:H7 or other STEC strains are ingested, the bacteria causes an inflammatory response in the large intestine resulting in severe gastrointestinal symptoms such as bloody diarrhea and abdominal cramps. This can cause other life-threatening complications including kidney damage and HUS. There is no cure for HUS. Once it develops, there is a very real risk of death or permanent kidney damage.
The case was filed in the United States District Court for the District of New Jersey in Trenton and is pending before Judge Peter G. Sheridan. It is captioned Cullinan v. Panera, LLC et al. (Case Number: 3:20-cv-01841. It is on for a Pre-Trial Scheduling Conference within a few months.
If you or someone you know has been injured by ingesting green leafy products contaminated with E. coli, please contact Scott A. Harford immediately at Harford, P.C. You can reach him directly at (212) 390-8983.
We are here to help you.