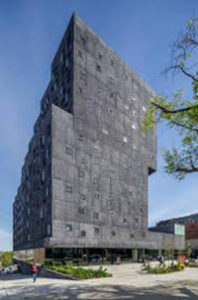 Harford, P.C. has filed two more lawsuits this week on behalf of Manhattan residents who were catastrophically sickened during last year's Legionnaires' disease outbreak in Washington Heights. The complaints, filed in New York County state court, allege both claimants were exposed to Legionella bacteria released from the cooling tower at the Sugar Hill Project.
The Sugar Hill Project is a mixed-use building located in Upper Manhattan located at the corner of West 155th Street and St. Nicolas Avenue. It is the first building in New York City history to be identified by the Department of Health as the source responsible for two separate clusters of Legionnaires' disease.
The Department of Health had started monitoring the Sugar Hill Project since the first outbreak last July and August, when 27 area residents were sickened, 25 were hospitalized, and one died. The DOHMH investigation also pinpointed the Sugar Hill Project cooling tower as the "most likely" source for that outbreak.
In early October, the Department of Health began another outbreak of Legionnaires' disease cases in the Lower Washington Heights neighborhood of Manhattan, which produced 32 illnesses; 30 hospitalizations, and one death. It subsequently issued a news release stating that it "has identified the cooling tower at the Sugar Hill Project as the likely source of this [outbreak]."
Legionnaires' disease is a severe form of pneumonia contracted by breathing in tiny droplets (mist or vapor) of water contaminated with Legionella bacteria. The disease usually develops two to 14 days after exposure to the bacteria. Symptoms usually begin with headaches, muscle pain, chills, and a fever, and by the second or third day can worsen to include a cough, shortness of breath, chest pain, gastrointestinal problems, and mental confusion.
If you or someone you know has been injured by contracting Legionnaires' disease, please contact Scott A. Harford immediately at Harford, P.C. You can directly reach him at (212) 390-8983.
We are here to help you.