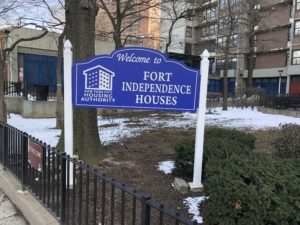 Harford, P.C. recently filed a lawsuit against the New York City Housing Authority on behalf of a 59 year-old female resident of the Bronx. The case was filed in the New York Supreme Court for Bronx County.
The plaintiff alleges exposure to Legionella bacteria at the Fort Independence public housing facility located in the northwest section of the Bronx. The exposure is alleged to have occurred in August 2018. As a result of this exposure, the plaintiff alleges to suffer from severe shortness of breath, kidney disease, and a host of other complications requiring hospitalization and continued treatment.
Following plaintiff's initial hospitalization, the Department of Health released a statement that the water distribution system at Fort Independence tested positive for the presence of Legionella bacteria. It also warned residents to not take any showers and to avoid breathing in mist from the building's water.
Harford, P.C. is working on the case with the Lange Law Firm, PLLC, a Houston based law firm that concentrates on representing individuals harmed by Legionella bacteria.
If you or someone you know has been injured by exposure to Legionella bacteria, we are here to help you. Please call us today for a free consultation at (212) 390-8983.