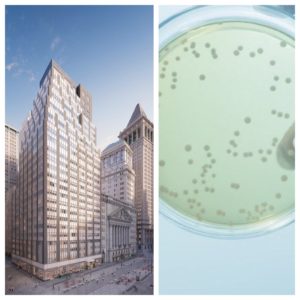 A Legionella outbreak has recently been reported at the New York Stock Exchange.
Harford, P.C. has been retained to represent a 59-year-old financial trader exposed to Legionella bacteria while staying at the Sonder New York Stock Exchange apartments located at 20 Broad Street in downtown Manhattan. The twenty-three (23) floor upscale apartment and retail complex is located adjacent to the New York Stock Exchange in the heart of the financial district.
Sonder, a short-term rental company, operates the second through eleventh floors in the building. It promotes itself as a "premium furnished rental" with the "convenient amenities of a hotel coupled with the comfort and intimacy of a vacation rental."
On March 11, 2020, the New York City Department of Health and Mental Hygiene released a notice that two guests residing in the building were confirmed with diagnoses of Legionnaires' disease. After testing the building's water system, the Health Department's results revealed Legionella growth in the water system supplying the second through eleventh floors. It warned guests to not take a shower and minimize time in the bathroom.
Harford, P.C. is working on the case with Siegel Brill, P.A., a Minneapolis based law firm that concentrates on representing individuals harmed by Legionella bacteria. To date, Harford, P.C. currently represents more than 15 individuals afflicted with Legionnaires' disease throughout the New York city area.
If you or someone you know has been injured by exposure to Legionella bacteria, we are here to help you.
Please call us today for a free consultation at (212) 390-8983.