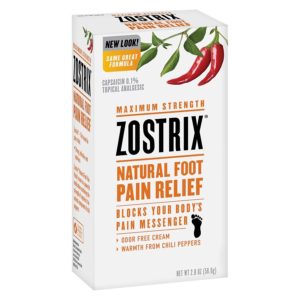 Scott A. Harford of Harford, P.C. has been retained by a client who suffered catastrophic skin burning injuries after applying the topical analgesic "Zostrix High Potency Foot Pain Relief Cream."  The over-the-counter product is marketed to treat mild muscle and joint aches and contains the active ingredient of 0.1% capsaicin, which is the major pungent ingredient of hot chile peppers.  It does NOT contain any warning on its label or product regarding any danger of skin burning.
Mr. Harford's client suffered massive burning to her foot after applying the cream resulting in immediate hospitalization and eventual amputation of her toes and foot.  Prior to her use of the product, she had never suffered any skin burns to her foot.
Zostrix-capsaicin creams are sold in retailers throughout the country, including Walgreens, CVS, Walmart, and Rite Aid.  The product is manufactured by Hi-Tech Pharamacal, Inc., a New York corporation and wholly owned subsidiary of Akorn Pharmaceuticals.  There are many other generic versions of the cream sold at various retailers.
On September 13, 2013, an FDA Drug Safety Communication alerted the public of 43 cases of skin burns associated with "topical muscle and joint pain relievers containing the active ingredients menthol, methyl salicylate, or capsaicin."  All of the cases included burns confirmed by a health care professional.  A recent review of the FDA website by Harford, P.C. additionally showed 21 total cases of skin burns from various capsaicin creams, including Zostrix.
If you or someone you know has been injured by a Zostrix or other capsaicin containing skin cream, we are here to help you.
Please contact us immediately for a free consultation at (212) 390-8983; Email: info@harford-law.com.