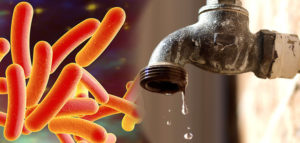 Three cases of Legionnaires' disease have been confirmed today at an apartment building for senior citizens located at 2 Nevada Court in downtown Newark, New Jersey. Officials from the New Jersey Department of Health are inspecting and testing the building's water supply and are working to inform residents about the issue. They have not yet pinpointed the precise origin within the building responsible for the outbreak.
An emergency meeting was set for 1:00 p.m. today for health officials to meet with building managers to determine the cause and figure out the next steps to alleviate the breakout. Residents of the building have expressed understandable concern. "We don't know yet until the testing, we don't what it's going to be. We have to go from there," said Willie Martin, a resident of the building. A woman from the building added, "I'm concerned, very. My level is 10, I guess you can say, maybe 100."
Legionnaires' is a form of pneumonia that is typically contracted by breathing in droplets of water in the air originating from a contaminated source. Risk factors for Legionnaires' disease include individuals with a weakened immune system, chronic lung disease, and cigarette smokers. Any adults that live or have visited the building in the last month should seek medical attention immediately if they experience flu-like symptoms, including fever, cough, or difficulty breathing.
Harford, P.C. has been representing individuals catastrophically injured by exposure to legionella bacteria since its inception as a law firm in 2015. If you or someone you know has been injured from Legionnaires' disease, please contact Scott A. Harford immediately at Harford, P.C. You can directly reach him at (212) 390-8983.
We are here to help you.