Roundup® Weed Killer / Cancer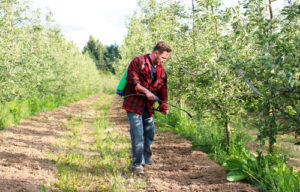 What is Roundup?
Roundup is a weed killer manufactured by Monsanto and sold as an "all-purpose" product to farmers, agricultural workers, and residential consumers. The intended use of the chemical spray is to kill weeds and grasses that are unsightly or harmful to crops. Its active ingredient is glyphosate, which was discovered by Monsanto as a possible herbicide in 1970. Monsanto began actively marketing glyphosate in 1974.
Each year approximately 250 million pounds of glyphosate are sprayed on crops, lawns, driveways, parks, and golf courses. This figure has increased substantially over the years mainly because of the expansion of genetically modified ("GMO") crops designed to resist the killing power of glyphosate. Monsanto is ironically the leading producer in the world of GMO seeds.
Monsanto was the sole manufacturer of glyphosate-containing herbicides from 1974 until 2000, when its U.S. patent expired. Although Monsanto's Roundup product still dominates the marketplace, other manufacturers sell glyphosate herbicides under the brand names Rodeo®, Aqua Neat®, and Aqua Star®.
What are the Potential Deadly Side Effects of Roundup®?
In July 2015, the International Agency for Research on Cancer issued a final health assessment of glyphosate determining it is "probably carcinogenic to humans." The International Journal of Cancer also published a Swedish study in October 2008 that concluded exposure to glyphosate doubled the risk of developing non-Hodgkin's lymphoma within less than 10 years. The Occupational and Environmental Medicine additionally published a U.S. study in September 2003 that found over 3,400 farmers in the Midwest had higher rates of non-Hodgkin's lymphoma associated with glyphosate exposure.
The most serious Roundup® side effects include:
Lymphoma: Hodgkin's and Non-Hodgkin's
Leukemia
Melanoma
DNA and chromosomal damage
Breathing difficulties
Abdominal pain and swelling
How can Harford, P.C., Help?
Harford, P.C., is currently investigating cancer claims arising from the exposure to Roundup® and other glyphosate-containing products. If you or someone you know has been injured by the use of a Roundup® product, please contact us immediately at (212) 390-8983 for a free case consultation. You may also complete the form on the side menu and we will contact you to set up a free consultation.