Muscle-Building Supplements / Cancer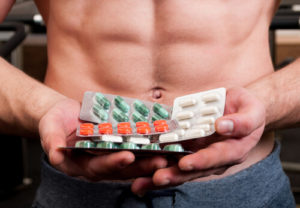 Muscle-Building Supplements Linked to Increased Risk of Testicular Cancer
Researchers from the Yale School of Public Health recently released a study that men who use over-the-counter muscle building supplements are 65% more likely to develop testicular cancer than those who never took them. The risk even increases more among men who begin using the supplements before age 25, use various kinds to build muscles, and use them over an extended period of time. The participants of the study resided in Connecticut and Massachusetts, were between the ages of 18 and 55, and included 356 men diagnosed with testicular cancer from 2006 to 2010.
The researchers were not able to ascertain the specific ingredient responsible for the link, but believed it may be due at least partly to undisclosed ingredients lurking in the supplements. The FDA recently raised concern about muscle building supplements in April 2015 when it warned consumers to not use Tri-Methyl Xtreme because it might contain anabolic steroids that can cause liver failure.
The study is the first to look at the epidemiologic associations between muscle building supplements and testicular cancer.
Harford, P.C., is currently investigating potential lawsuits relating to testicular cancer arising from the use of muscle building supplements. If you or someone you know was injured from the use of muscle building supplements, please contact us immediately at (212) 390-8983 for a free case consultation. You may also complete the form on the side menu and we will contact you to set up a consultation.